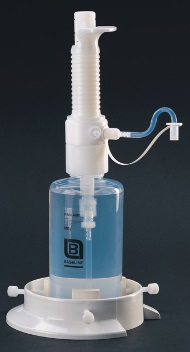 Support BASE (BT-BASE4): the support Base will accommodate SEASTAR's fluoropolymer bottles sized 250mL to 2L, as well as SEASTAR's 500mL to 2.5L HDPE bottles.
The BT-BASE4 helps provide stability to the bottle when the Bottle-Top Dispenser units is attached.
The illustration below shows the ease of operation of the BT-Dispenser and the BT-BASE4 providing additional support.
Please note that the Bottle-Top Dispenser and the BASELINE® High Purity Fluoropolymer Bottles are sold separately.